Recent
Events
Books, Magazine Articles and "In the News"
2010
Dr. Guadagnoli is working with Jamie Fitzgerald (ON-Brand Partners) on a new book that discusses the benefits of adversity.  In the book they talk about how can we use challenge to our advantage. Whether self imposed or given to us, challenge is our greatest opportunity for growth.  This isn't just an attitude issue, although attitude is important.  There is a science behind adversity.  In fact, as a species, we have evolved to grow from adversity or challenge.  And here is the oddest notion of all:  Happiness requires adversity.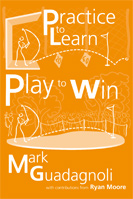 2009
Dr. Guadagnoli published the second edition of Practice to Learn, Play to Win and this time he decided to give it away as a free download. Why is he giving it away for free?  On the webpage practicetowin.com he says, "I want you to enjoy the book and I don't want money to stand in your way. I never intended to get rich writing the book. I wrote it because I believed I had something to say that could help people."  For those people who buy the book, 100% of the profits in 2010 will go to charity.
2008
Dr. Guadagnoli published Human Learning; Biology, Brain, and Neuroscience, lectured at Harvard University on his learning theory, was featured on the CBS special, The Science of Golf, in the New York Times, Golf Magazine, GolfDigest, and ESPN Radio.
A Date is Set:
Dr. Guadagnoli's book, Practice to Learn, Play to Win, will go into publication January 2007. The book features the latest advances in learning, which in turn answers the most burning question of most golfers: What is holding you back? Why you don't play the way you know you can play?
Practice to learn… is being hailed as the map to less frustration and better scores. Practice to Learn… is divided into three sections. Section I focuses on the mindset of learning. Although little known, your mindset about learning goes a long way to dictate how much you will learn. Section II focuses on methods of practice. Here you will learn how to improve your ability two or three times faster than before. You will also learn how to take your driving range success on to the course for great golf. Section III focuses on the framework that will supercharge learning and playing golf including goals, reasons for practice, and supercharging learning. Practice to Learn… will be available through E-cadamy press early in 2007.
Best of the Best:
In December 2006 Dr. Guadagnoli lectured to the USA Track and Field Elite Athlete Sprint and Hurdle Seminar High Performance Division. The topic of the lecture was Motor Learning and the Elite Athlete. This lecture was one of the keynote addresses for the 2006 seminar series in Las Vegas, Nevada.
In the News:
Dr. Guadagnoli was recently featured in the GolfDigest (January, 2007) article "How to Get the Most out of Training Aids" (written by Max Alder). Quotes from the article:
"We are not a one-size fits-all species. With motor skill acquisition, some people learn best by watching, others by feeling and others by verbal instruction."
"Proponents of discovery learning contend we acquire and retain skills best when the mind plays an active role in figuring out how to perform them. You should be suspicious of training aids that promise muscle memory, because the term itself is a misnomer. Muscles can't be trained through repetitive motion, as marketers of some products suggest. The neurons in the brain TELL the muscles what to do. When we practice, certain neurons get used to working together. But unless the golfer is cognitively engaged, no real learning can occur."
"The human memory system is designed to flush things. When we say a phone number repeatedly then dial it, we forget the digits immediately. The same thing happens when we strap on a training aid and plow through a bucket of balls. Creating a golf swing is like finding a needle in a field of haystacks. A training aid might tell you which haystack has the needle, but it cannot do the learning for you."